Hound dog howling in the junk yard
Black cat in the garbage can
Wino drunk down in the alley
Bad moon rising up again
- "Full Moon on Main Street"
– Donald Kinsey
The Blues Dogs is a collection of Boston mutts that all love to play the blues. We especially like that rowdy, danceable stuff about how "my nasty habits are 'bout to get the best of me." That stuff that gets you to tapping your foot, nodding your head, and then just to shaking all over. Feeling good music.
So when we do some of that mournful stuff about how "my baby done up and left me," everyone's ready for one of them songs (and maybe ready for a slow dance).
The Dogs play guitar, keyboards, bass and drums. Three of the Dogs sing lead and background vocals, and we've been known to howl in harmony (at least until someone throws a shoe at us). And like true mutts, we've got a lot of influences in our blood streams: a little South Side Chicago, a little Texas boogie, a little uptown urban sophistication, and even a little jazz (but that's the embarrassing part of the family tree…).
So when you're ready to do some barking and scratching your own self, get off the porch and come join The Blues Dogs in howling the blues.

Guitar and Vocals: Bob Jones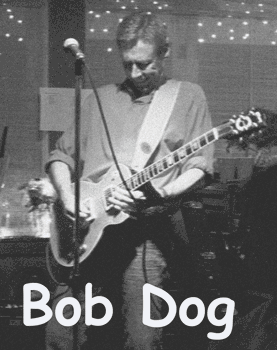 Bob has been playing and singing in bands since about the time electricity was invented. He made his living as a musician several times, sometimes for a few months, sometimes for a year at a time. He has backed up several national acts, including The Drifters and similar bands, and he has opened for several big British rock groups, including Humble Pie and Savoy Brown. He played in a rockabilly band in California with an occasional member of the Stray Cats. Bob got immersed in the blues while playing in a band from Chicago's south side, and has played several of the same venues as Buddy Guy and Albert King. He studied several times at National Guitar Workshop, usually participating in the Blues Summit programs. Bob says that when he's playing that groove and singing harmony with the band, life is good.
For more information, to book a gig, or to get on our e-mailing list, contact Bob at bobjones_02142@yahoo.com or call Bob at 617-697-1163.

Keyboard and Vocals: Kevin Wells
Kevin grew up in a musical family. His mom was a highly accomplished pianist and both sisters played a variety of instruments. He started playing trumpet at the age of 7 and picked up keyboards at age 10. Kevin performed in a variety of concert, jazz, choral and rock ensembles through high school and in college, eventually joining the David Coate Group and recording and touring extensively with them in the early 80s. He also formally studied music at UNH and William & Mary summer programs. He has performed with the Blues Dogs since 2006 playing keyboards and singing lead and background vocals.
You can reach Kevin at wkevinwells@gmail.com

Bass and Vocals: Jeff Thomas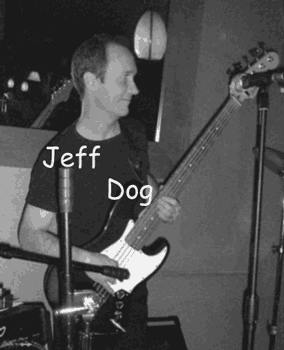 Having 4 older siblings and a very musical family, Jeff has been singing most of his life. His Dad taught him to play the ukulele at age 7. He took piano and guitar lessons in his youth, and sang in various choirs and musical groups. He studied electric bass at Berklee College of Music, and graduated cum laude with a BA in Music Education. The program required him to learn how to play a little of many different instruments, including trumpet, saxophone, clarinet, oboe, keyboards, percussion, drums, xylophone, and guitar. After a year spent teaching general music in the public elementary school system, Jeff decided to just lay low and chill with the Dogs, and he has been there ever since. Send Jeff an email: mr_jpt@hotmail.com

Drums: Ray Paradiso
Ray Dog grew up bangin' the skins in high school rock bands in the 70's in Northeastern PA. After taking a hiatus for a couple of decades to do the normal college, family and kids stuff, he got back into the groove playing with several rock and blues bands in the Boston area. He's played with the Taylor Street Blues Band and the Silas Blues Band and most recently with Revolutionary Road. Hailing from Acton, MA he can often be found sniffin' around the Acton Jazz Café, sitting in with the cats (?!?!) at the Thursday night blues jam.